There are two types of lead fields in Oryx Cloud: standard fields and custom fields.

Those fields are available out of the box in Oryx Cloud. the following are the standard fields in Oryx Cloud lead management software:

First Name

Last Name

Email

Phone

Inquiry

Source

Stage

Company Name

Address

City

State

Zip/Postal Code

Country

Interest In Which Category (The entries for those fields can be customized from here

)



If you are using Oryx Cloud Forms for lead capturing, the following standard fields are captured with each form

Form Lead Source

Campaign Source

Campaign Medium

Campaign Name

Campaign Term

Campaign Content
Redtail CRM contact has more fields than the basic fields in Oryx Cloud. If you would like fill those details in Oryx Cloud lead before pushing to Redtail, you can use Lead Custom Fields feature to achieve that. To learn how to create custom fields in Oryx Cloud Leads, please read
How to Create Custom Services
.

When creating custom fields, make sure to create the correct custom field type and data type will map accurately to Redtail contact field type and data type.
To push a lead to Redtail,

1- Open a lead page from the lead management dashboard

2- Click on the Lead Actions button on the upper right corner


3- Click on Push to Redtail in the lead actions list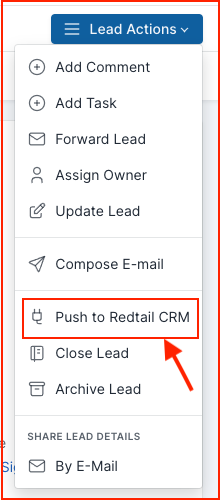 Once you click the Push to Redtail CRM button, the job will start to push the lead as a new Individual contact. The push will be queued as a job. It will take between 20 seconds and 2-3 minutes to create the contact, depending on the number of fields being pushed. Once the job is completed, you will receive an email notification.

If you mapped the Company field, the system will look up if the company exists in Redtail. If it doesn't, it will create a new business contact for that company. If you don't wish to create new companies in Redtail, please don't map the company field.

If you mapped the Spouse fields, the system will also create a new individual contact for the Spouse and link it to new contact as a spouse.
If you need help and support in setting up the integration and creating custom fields with oryx cloud, please send an email to
support@oryxcloud.com
or call us at
(281) 800-4771
.