Overview of the Store Manager (Merchant Dashboard)
The
Store Manager
is the central dashboard for managing your account on Oryx Cloud. From the Store Manager, you can:
View analytics of the website visits, leads, appointments, and orders in a graphical format, based on the day-week-month.

Create Appointments

Creating and Managing Leads

Managing Orders and Payments

Creating Online and Custom Services

Publishing Blogs

Creating and Configuring your Website

Configuring the settings for your account and website.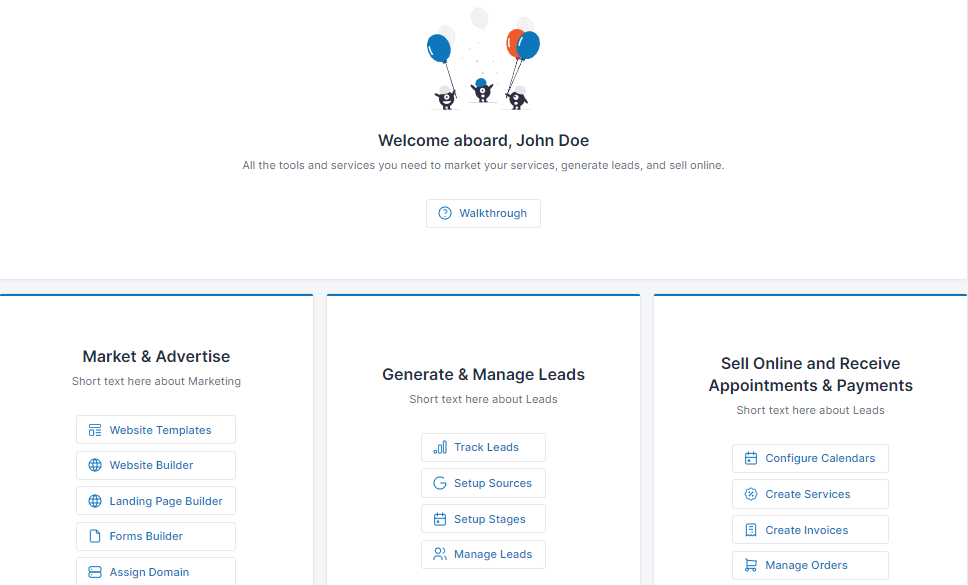 Oryx Cloud Home Page
The main sections in the Store Manager are:
Website Visits: The website analytics gives you a graphical format of the top page views recorded. It also displays the source from where it is generated, operating system and browsers used and the countries it originated from.


Website Analytics



Leads: Lead Analytics gives you a graphical format of the generated leads by source and by stage.


Lead Analytics



Appointments: The appointment section gives you a graphical view of all your appointment counts based on the calendar.


Appointment



Orders: Order Analytics gives you a graphical format of the Order Counts and Total Orders.


Order Count



Orders & Payments: This section allows you to handle the Order & Payments for your services in Online mode in Oryx Cloud Online Store.

Online Services: It allows you to create Online Services that customers can book and pay for directly on your website. Online Services will show under the Offers page on your website.
Custom Services: It allows you to create custom services per customer request here and send with a payment link.
Related Articles

Orders and Booking Dashboard

The Orders and Booking Dashboard page of Orxy Cloud Manager allows you to view stages of all your orders, filtering and managing the orders, searching orders and actions operations which can be performed from this page. Dashboard Page Order Stages ...

Store Locations

Oryx Cloud also helps you manage your store locations. A Store Locator basically centralizes your business by catering to customers all over the world and improving your overall branding. The Business Location section is used to update your business ...

Setting up an Account Using Store Wizard

Setting up Account To set up an account with Oryx Cloud, do the following; Go to the registration page https://app.oryxcloud.com/register Register account by entering your Name, Email address, and click Create my Free Account The Welcome to ...

Managing Orders from the Store Manager

The Oryx Cloud Filter & Manage Orders page allows you to manage the orders of your customers. It allows you to view details, add comments, redeem order, cancel order, and share order details by Whatsapp or e-mail. To manage orders do the following; ...

Managing Leads from the Dashboard

The Oryx Cloud Lead Management System which is defined as "Leads" section in the Dashboard allows you to manage the information related to leads. It allows you to manage the leads by sending e-mails, create appointments, add comments, updates status ...