Configuring Email Redirect (Leads by Email)
An Email Redirect (Leads by Email) is used to

forward leads to your lead management dashboard automatically using your lead source's unique Email ID.


The

Email Redirect (Leads by Email)

page displays the

Lead Source, Assigned Email,

and

Action

column. From this page, you can request for an Email ID to be generated for forwarding emails.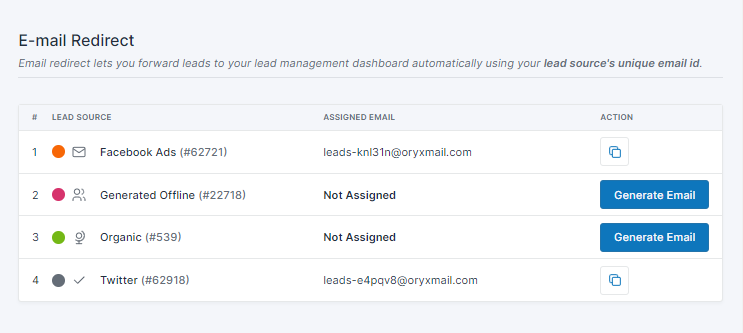 Email Redirect
Configuring an Email Redirect



To configure an Email Redirect do the following:

Go to the Oryx Cloud Store Manager page

Click on Setup
The Oryx Cloud SETUP page is displayed.
Go to Leads > E-mails Redirect
The E-mails Redirect page is displayed.
Click to generate a unique E-mail ID for forwarding emails


A unique E-mail ID will be generated and assigned for the particular lead source. A successful message will be displayed.



To copy E-mail ID you can click on
Related Articles

Configuring Call Redirect (Virtual Phone Number)

A Call Redirect (Virtual Phone Number) is used to redirect calls to your cell phone or landline, from a particular landing page through a source which for example can be Google Ads, Facebook Ads, etc. A Virtual Phone Number is useful in terms of ...

Searching Leads

Searching Lead section describes how to search lead information based on certain filters. By default the New stage filter under Stage column filter will be displayed at the top of the list. Each of the filter options are explained below; Lead Stages ...

Managing Leads from the Dashboard

The Oryx Cloud Lead Management System which is defined as "Leads" section in the Dashboard allows you to manage the information related to leads. It allows you to manage the leads by sending e-mails, create appointments, add comments, updates status ...

Downloading Leads to Microsoft Excel

The detailed information of all the leads can be downloaded in an excel format from the Orxy Cloud Leads Management page. By default you can download Top 5000 (Newest First) Lead information. To download leads in an excel format, do the following; In ...

Overview of the Leads Dashboard

The Store Manager is the central dashboard for managing your account on Oryx Cloud. From the Store Manager, you can: View analytics of the website visits, leads, appointments, and orders in a graphical format, based on the day-week-month. Create ...